Pentax K-01
Publisert 02.02.2012 14:53
Utskiftbare objektiver (K- fatning), 16,3 megapiksler, inntil ISO 25.600, og et stort antall automatiske funksjoner, er bare noen av argumentene for det nye Pentax K-01.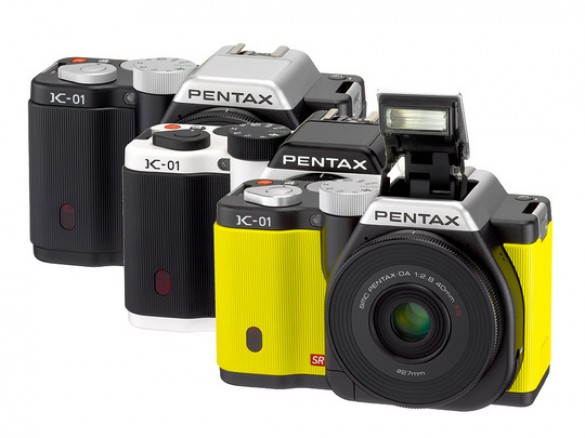 "Jeg ville skape et image av kvalitet og kompetanse. Noen av mine favoritt­kameraer gjennom tidene har vært Pentax. Så jeg ville tilbake til varemerkets røtter, og forsøke å skape noe som virkelig var unikt og dessuten ikonisk", sier Marc Newson.
Pentax K-01 er et nytt digitalt hybridkamera designet av Marc Newson, en av verdens fremste designere. Time Magazine rangerer ham som en av verdens hundre mest innflytelsesrike personer. Hans kunstverk finnes utstilt på museer verden over, deri­blant Museum of Modern Art i New York, Londons designmuseum og V & A, Centre Georges Pompidou samt Vitra Design Museum.
Pentax K-01 kan bestilles her
K-01 Spesifikasjoner
16,28 megapiksel CMOS APS-C 16 sensor med Senshor-Shift billedstabilisator
Unik design av Marc Newson i materialer av høy kvalitet
Seriefotografering på hele 6 bilder/s
ISO-følsomhet inntil 25 600
100% Søkerbilde
81 valgbare fokuspunkter
Nyutviklet PRIME M bildeprosessor
Kompatibel med alle PENTAX K-mount objektiver
Kompatibel med alle PENTAX DSLR tilbehør
Video i Full HD (1920 x 1080p, MPEG4 AVC /H.264, 24, 25, 30 bilder/s)
Dedikert knapp for Videoopptak
Micro HDMI-utgang
Funksjon for intervallfotografering (time lapse)
Display: Antirefleksbehandlet 3" (7.6cm) TFT LCD med bred betraktningsvinkel, 921k punkter
Innebygget Stereomikrofon
Inngang for ekstern mikrofon
Batteri: oppladbart Lithium-ion batteri D-LI90
Passende minnekort: SD, SDHX, SDXC
Dimensjoner; 12,1x7,9x5,9 cm (BxHxD)
Vekt: 480g
Pentax K-01 har et imponerende antall funksjoner, APS-C CMOS-sensor med 16,28 megapiksler som gir skarpe bilder, seriebildeopptak med seks bilder pr sekund, følsomhet opp til ISO 25.600 og video i full HD (1920x1080) med stereolyd, er bare noen av funksjonene.
H.264 videoformat tilbyr et utvalg av bildehastigheter (30, 25 eller 24 bilder pr sekund) for brukerspesifikke applikasjoner. Opptak startes med en egen (rød) knapp, og en stereomikrofon gir meget realistisk lyd. Det finnes også inngang for ekstern mikrofon og en spennende funksjon for intervallfilming (timelapse movie).

Videre har det nye kameraet Pentax K objektivfatning, som gjør det til det eneste hybridkameraet på markedet som er kompatibel med eksisterende objektivpark. Totalt har Pentax lansert 214 ulike objektiver siden starten, og man har til dags dato solgt over 20 millioner objektiver.
Videre finnes nitten automatiske motivprogrammer, og like mange digitale filtre, samt en rekke etterbehandlings­-funksjoner for kreative bilder. Blant annet kan man skape en serie med miniatyrer i et bilde.
I Auto Picture-modus optimaliseres alle kamerainnstillinger som blender, lukkertid, hvitbalanse, fargemetning, kontrast og skarphet. Det innebærer at fotografen kan ha full oppmerksomhet på bildekomposisjon.
Det avanserte autofokus-systemet omfatter kontrastdetektering og 81 valgfrie fokus­punkter.
Det nye designet gjennomsyrer også det nye objektivet smc PENTAX-DA 40mm F2.8 XS, verdens tynneste (9,2 mm) utskiftbare objektiv, som lanseres sammen med K-01. Det har brennvidde tilsvarende 61 mm i 35 mm formatet.
---
Immaculate, tasteful design by Marc Newson
The contemporary, timeless design of the PENTAX K-01's body consists of neat, straight lines to optimize both functionality and visual attractiveness. Original-design push buttons and control levers are efficiently laid out across the body, while brilliant colours are used on two key buttons for instant recognition: red for the video recording button, and green for the functional green button. The mode dial and the power switch are made of high-quality aluminum alloy, while the memory card slot and connectors on the comfortable, easy-to-hold grip are covered with protective rubber. Marc Newson's original design scheme is evident in all elements of the K-01, including the product logo, the camera strap (included) and even the start-up screen that comes on when the K-01's power is turned on.
Exceptional image quality
The K-01 comes equipped with a newly developed 16.28 effective megapixel CMOS image sensor measuring 23.7 millimeters by 15.7 millimeters. This extra-large sensor assures high-speed readout of image data signals. The "PRIME M" imaging engine assures first-rate movie recording performance in a digital interchangeable lens camera. It offers an extra-wide sensitivity range — from ISO 100 to ISO 12800, or to ISO 25600 when expanded using a custom function — while minimizing digital noise at all sensitivity levels.
Compatibility with all PENTAX K-mount lenses
The PENTAX K-01 is accepts a wide array of PENTAX interchangeable K-mount lenses* including those produced for film-format SLR cameras. With this lens compatibility, you're sure to find the most suitable lens for a particular subject or scene and create the desired visual effect and perspective with great ease.
*K-, KA- KAF, KAF2, and KAF3- mount lenses can be used with the PENTAX K-01, while screw-mount lenses, 645-system lenses and 67-system lenses can be used with an adapter. Some functions may not be available on certain lenses.
High-quality video recording
The Full HD video-recording function captures high-quality movie clips (1920 x 1080 pixels). With the H.264 recording format, it offers a choice of frame rate (30, 25 or 24 frames per second) to accommodate user-specific applications. Add personal touches to recorded clips by using various Custom Images, or use the interval movie shooting mode to record the subject in a series of video clips. The PENTAX K-01 also comes with an HDMI type C terminal, which allows you to simultaneously output both Full HD movie clips and stereo sound, as well as an external microphone input terminal.
New-generation HDR mode
The HDR (High Dynamic Range) mode can be instantly selected with a turn of the mode dial. You can take advantage of newly added features to select one of three exposure increments as well as the level of effects, while an automatic position adjustment function assures precise alignment of three images, even when they are taken with a handheld K-01.
A selection of image processing tools for personalized expressions
The Custom Image function allows you to select the most appropriate finishing touch for a particular subject or scene to express your personal creative intention or taste. Choose from 11 Custom Image settings, including Bleach Bypass to create a dramatic visual effect used in motion pictures, and Cross Process to produce a fanciful image with unusual colours. Use the 19 distinctive digital filters to easily apply different visual effects to recorded images. You can even apply multiple digital filters to a single image, giving you even more creative options.
Smooth, quiet, high-speed burst shooting
The PENTAX K-01's high-speed burst shooting mode comes in handy when preserving the action of fast-moving subjects in a series of images, capturing up to six images per second. With its mirrorless construction, the K-01 offers exceptionally silent mechanical operation that allows users to concentrate on photography even when shooting such subjects as stage performances.
Large, wide-angle 3.0-inch LCD monitor with approx. 921,000 dots
The PENTAX K-01 has a large, easy-to-view, high-resolution 3.0-inch colour LCD monitor with approximately 921,000 dots. Its wide-view design assures a clear view of the monitor from approximately 170 degrees horizontally and vertically, which is useful in low- and high-angle shooting.
PENTAX-original SR mechanism for sharp, blur-free images
The PENTAX K-01 incorporates the PENTAX-developed SR (Shake Reduction) mechanism. Usable with all compatible lenses, including those produced for film-format SLR cameras, this mechanism produces sharp, blur-free images even under demanding conditions that are prone to camera shake, such as when using a telephoto lens, shooting in the dark without flash illumination, or capturing landscapes in the twilight.
Effortless, user-friendly Auto Picture and Scene modes
The PENTAX-original, user-friendly Auto Picture mode selects the most appropriate shooting mode for a given subject or scene from Portrait, Landscape, Macro and other distinctive shooting modes, while optimizing all camera settings, such as aperture, shutter speed, white balance, saturation, contrast and sharpness, allowing you to concentrate on image composition and shutter opportunity. The K-01 also offers 19 different Scene modes, which simplifies the photographing of difficult subjects or demanding scenes — such as Night Scene Portrait mode, Pet mode, and Backlight Silhouette mode — simply by choosing the corresponding icon on the camera's LCD monitor.
Other features
 
TTL image-sensor metering, with a choice of multi-segment, center-weighted and spot modes
Contrast-detection autofocus system, with 81 selectable focus points
DR (Dust Removal) mechanism to shake off dust adhering to the surface of the CMOS image sensor
CTE white-balance control mode to emphasize the predominant colour of a particular scene, such as the sunset
A choice of four image sizes (4:3, 3:2, 16:9 and 1:1) to accommodate different subjects and applications
Multi-exposure mode (up to nine exposures on a single image), with an auto exposure compensation function
Interval shooting mode, useful in time lapse recording of landscapes and flowers/plants from an exact same location and angle