Pentax K-3 III
Publisert 27.10.2020 00:00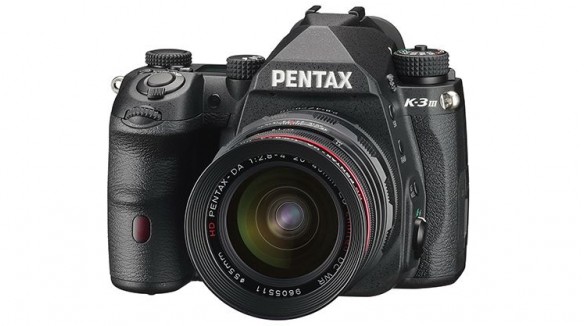 RICOH COMPANY, LTD. and RICOH IMAGING COMPANY, LTD. have been developing a new PENTAX K-series digital SLR camera, which will be positioned as the flagship model of the APS-C-format SLR lineup.
Currently in development, the new camera now has its official name: the PENTAX K-3 Mark III. Designed to be a camera embodying The Five Principles of PENTAX (described in the PENTAX STATEMENT* featured on the RICOH IMAGING official website), it will incorporate an array of functions and features to showcase the significance of SLR photography, and also to optimize the joy of picture-taking for those photographers who regard photography as their lifetime passion.
The product prototype was exhibited last year at the PENTAX Meeting 100th Anniversary Special fan event. At the event, we announced that it would be launched by the end of 2020 -- and it is now in the final stage of development. Once development is complete, we will then begin streamlining the camera's production system. It will take a bit more time for all this to happen, so we appreciate your patience as we give you an overview of the product, as below. We'll provide you with more specific product information, such as the timing of the official product announcement and the scheduled market launch date, as soon as they are finalized.
Also, we would like you to visit our RICOH IMAGING website for videos giving more information on the new PENTAX APS-C-format digital SLR flagship, and to get ready for the arrival of the camera that we expect to set new standards for the future of SLR photography.
THE FIVE PRINCIPLES OF PENTAX
1.We design new cameras through sheer devotion.
2.Our goal is to produce cameras with the power to capture images that allow for direct communication with the subject.
3.We design cameras that allow our users to enjoy all the processes involved in taking a picture.
4.We pursue a level of quality and performance that can't be measured by numbers alone.
5.We respect and value the photographic experiences of our users and view this as an invaluable asset.

Overview of the Product Specification:
APS-C CMOS sensor 26MP 
ISO range to 1.600.000 
TTL open aperture metering using 307K pixel RGBIr sensor
In-Body Image Stabilisation Shake Reduction 5-axis with compensation effect of 5.5 steps
Prism viewfinder with 100% field of view coverage
3,2" TFT Touch Screen LCD monitor with 1.620 K dots
101 Autofocus point (25 cross type points) / SAFOX 13 
Shutter Speed  up to 1/8.000 sec. with max approx. 12 fps, Continuous Shooting
Wifi & Bluetooth enabled
4K Video
Additional user friendly functionalities: 
12 Original PENTAX Custom Image Functions
Digital Filter for Exposure and Editing
Internal RAW File Editing
Night Vision LCD
Depth of Field Bracketing, Motion Bracketing
Pending information:
Launch date: Not confirmed – currently scheduled around CP+, which is should take place between February 25 to 28 in 2021, in Yokohama Japan.
Suggested Retail Price: Not confirmed